Soil Engineering Complete Office Upgrade
Investing in Workplaces
Soil Engineering are delighted to announce the move back into the Leeds head office building. Following a positive year for the company, our headquarters has recently undergone a complete office upgrade. Committed to investing in our people, we believe that this brighter, more inviting space provides a more modern and sustainable workplace for staff. As lockdown measures ease, staff are able to transition from working purely from home, to a spacious office environment.  Department relocation has taken place in phases, allowing staff to maintain social distancing measures. The past fortnight has seen essential employees settling in comfortably into their new surroundings.
The building now comprises predominantly open plan offices, with break out rooms and a digital conference room. Every floor also boasts its own kitchen, complete with a drinks station and dishwasher. Meanwhile, the building reconfiguration allows for improved disabled access.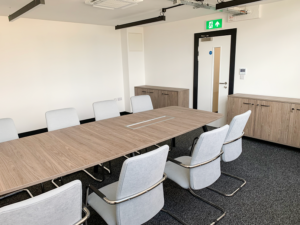 Staff will now benefit from a fully furnished canteen, which will allow for greater social interaction when COVID restrictions are lifted. Replacing the old oil-fired heating system, the office is now climate controlled, allowing for more comfortable working conditions in every department.
Environmental Benefits
This investment significantly reduces our business reliance on fossil fuel as all our office power is sourced from renewable tariffs. Aligned with our sustainability agenda, the complete office upgrade removes our fixed premises reliance on carbon. This in turn cuts our emissions by 55t (CO2e) per annum, the rough equivalent of driving to the moon and back in a company car. This thorough modernisation runs parallel with the business' capabilities, efficiency, and vision. We hope this redevelopment reflects how much we value our staff and our commitment to continual improvement in all aspects of our business.
We look forward to welcoming you to this new chapter in the history of Soil Engineering.