Enhanced Fuel Use Tracker system trials extended throughout Soil Engineering
As we continue on our 40×30 journey, Soil Engineering have launched an upgraded fuel use tracking system into large scale trial.
Deployed initially on our Ground Investigation works for HS2 Ltd, and now also going live on a Grouting project for The Coal Authority the simplified system looks set to further improve our detailed understanding of fuel consumption, and help us drive down the carbon cost per metre.
Using QR codes individualised to every item of plant on a site, the digital interface allows project teams to rapidly update fuel usage figures into a central database every time a plant item is fuelled up. The database allows us to analyse fuel consumption on our plant to highlight any equipment which may be running inefficiently, whilst also comparing fuel use to fleet outputs and identifying where CO2 savings are being made with no impact on project productivity. Data obtained from the new system will allow us to produce more detailed analysis on fuel use behaviours, and the effectiveness of further training and plant investment. The use of QR codes also keeps interactions simple, with a parallel system already in use for plant safety and support documents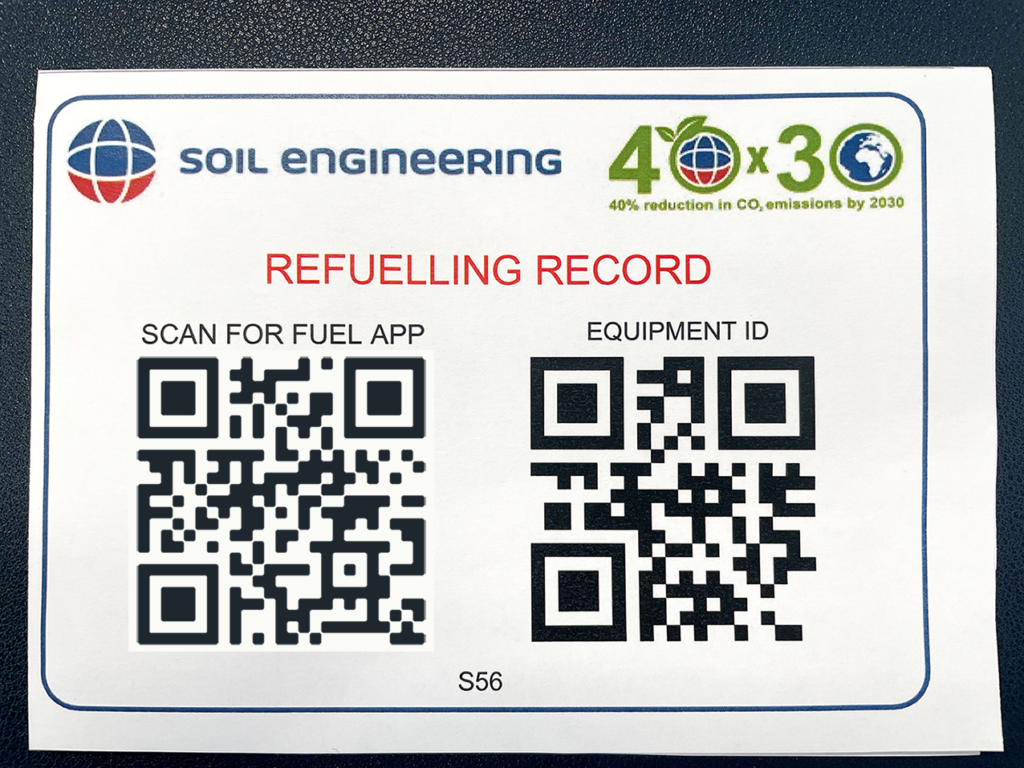 This development will enable us to indicate to clients precisely how much CO2 has been emitted by each metre of drilling, and every ton of grout emplaced. Through this, we'll be able to supply further improved environmental reporting, and detailed analysis of our progress against company targets. As Soil Engineering move to increasingly energy sensitive and sustainable site compound setups, and continue to invest in plant renewal, improved fuel use detail will help us inform our next steps towards reducing our CO2 emissions. Paired with a trial of HVO fuel use we see this as a significant move to both a reduction in, and better understanding of, carbon in the early stages of construction work.