Environment Day
The Vinci Group's global Environment Day returned this week for its second year. Reinforcing the group-wide commitment to reduce our Scope 1 and 2 CO2 emissions by 40% before a 2030 deadline, and to net zero by 2050, the mass engagement of employees and suppliers was a great success.  As a business Soil Engineering are committed to making a positive contribution to a more sustainable world. This will only be achieved if everyone is on board – our employees, customers and our supply chain working together collaboratively. We introduced our 40×30 campaign logo to reflect the key target at our in-house Environment Day events. These saw nearly 200 employees and suppliers at 12 locations across the UK meeting to discuss how we can all deliver this target together.
Environment Day provided everyone a chance to update on what we've achieved in the last year, what's in the pipeline, and to listen to suggestions as to where we could go next. A detailed review of context, our benchmark CO2 figures (2018 levels), and terminology session to improve overall understanding of this complex area led off the day. This was followed by a discussion of key target areas for group-wide reductions, and which are most applicable to our own business.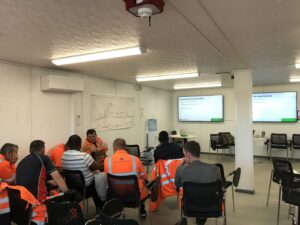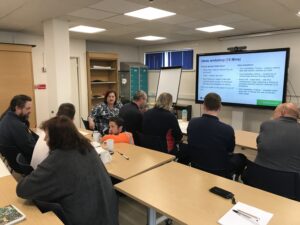 What have we achieved so far?
Outlining the investments and developments of recent years which are already making an impact on our CO2 emissions, we highlighted the following initiatives:
Investment in 4 new rigs this year each of which will reduce CO2 emissions.
Conversion of all our Grout Mixers to use a common electrical source, rather than relying on individual diesel engines. This then allows more efficient generator plant to be used on site, reducing CO2 emissions and producing savings which can be passed on to our clients
Refurbishment of our Head Office including the removal of the oil fired boiler. This alone will now save 50t of CO2 per year.
Replacing fluorescent tubes throughout our facilities with LED lighting, a saving of 233kg Co2 per light, per year.
Purchase of certified renewable-only power for our office facilities, allowing realisation of CO2 savings on heating and lighting.
Where Next?
We also highlighted key elements of our near-term and longer term plans to continue reductions, including:
Removal of further fossil fuel dependence at fixed premises
Installation of Solar Panels at our offices
Fleet upgrades to include more electric vehicles, and the installation of charging points at our offices to benefit staff and visitors alike.
The Outcomes
We encouraged event attendees to workshop their own ideas and suggestions for us to investigate, working towards our 40×30 goal. Our staff and supply chain are at the sharp end of delivering this commitment, and it's vital we listen to them, taking inspiration from and acting upon their suggestions. We also encouraged everyone at each event to produce a written pledge of their determination to achieve the 40×30 goal. The response to this was fantastic, and a large proportion of attendees made a personal pledge on what they will do to reduce their impact on CO2 emissions. The passion and enthusiasm of participants was plain to see, and the challenge now is which of the many great ideas generated do we investigate first? A good problem to have!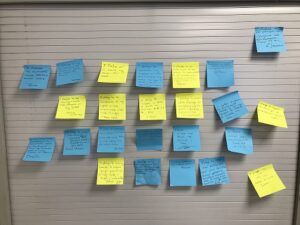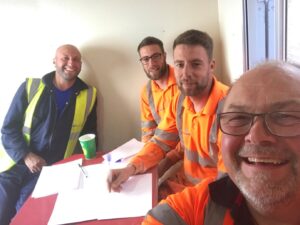 Environment Day will return next year, and we'll report on progress against our environmental plan.