Preparing for HS2 with EKFB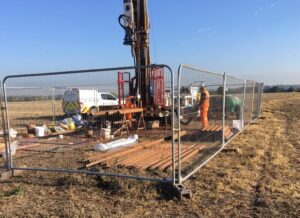 As the High Speed Two Rail Project moves fully into construction, the Eiffage Kier Ferrovial BAM (EKFB) Joint Venture is continuing its programme of Ground Investigation works, even against a backdrop of COVID-19. Soil Engineering, having previously undertaken major works directly for HS2, have been at the heart of this transition.
Our Major Projects team, resourced from our offices in both Camberley and Leeds, have delivered one of the longest continuous investigations in our over 50-year history, on site for nearly two years to complete Stage 1 in partnership with EKFB. Providing supply chain breadth encompassing subcontractors from Oxfordshire, Cambridgeshire, and Yorkshire, and specialist materials supppliers from as far afield as Northumberland, the HS2 project has allowed the economic benefits to be felt far and wide. But what has this looked like in the field?
Our crews have undertaken extensive liaison works alongside EKFB, ensuring that stakeholders understand the nature and duration of works on their land and near their homes. This has led to the completion of over 490 exploratory holes, with a total drilled and excavated depth of over 5200 linear metres. Engineering Geologists on site have handled almost 10,000 samples, and our in-house Geotechnical Laboratory has completed in excess of 7000 tests on material recovered from site. The resulting AGS Data file has been updated throughout works to provide the Designers with the most up-to-date data available to support their efforts.
These works have informed foundation and earthworks design across part of HS2's central section, critical to the delivery of new and relocated habitats and infrastructure, as well as the HS2 rail line itself. Having received notice to proceed, EKFB JV has had the confidence in our product, supply chain, and our people that has allowed them to issue us with a contract worth in the region of £4M for significant further works into 2021. This has, in turn, provided a welcome degree of security to our order book, against the backdrop of economic uncertainty caused by COVID-19, and ensures that the Government's "Build Build Build" programme has direct benefits to our staff and supply chain across the UK.