Early Careers Recruitment
When you join Soil Engineering, part of the world's largest specialist geotechnical contractor group, you're part of an international community of over 10,000 experts, based in 31 countries around the world. You'll have the opportunity to contribute to prestigious, ground-breaking projects, using the very latest tools and technology to solve complex problems, constantly learn new skills and take your career in any direction.
Our highly skilled team provides leading geotechnical expertise through ground investigation, drilling and grouting, and geotechnical testing. A career at Soil Engineering means working with leading experts and continuously building your knowledge as part of a supportive community that takes care of one another.
As a talented and ambitious undergraduate, you'll appreciate the opportunity to apply your talents to projects that will provide you with the kind of challenges your skills deserve. As Industry leading Geotechnical Specialists within the fields of Ground Investigation and Ground Stabilisation, we can offer the chance to work on projects that will make the most of your skills.
With cultural training and development through our HomeSafe +People programme, support from our in-house Technical, Safety, Training and HR departments, and through a tradition of meeting ambition with opportunity, our people bring the best out of each other through working in specialist teams supported by highly experienced Managers.
MENTORING
Graduates are assigned a mentor at senior or principal engineering geologist, to act as a fixed point of contact and someone you can turn to for advice on any issue. Mentors  will assist with your development and training and will also help you on the route to becoming chartered with your chosen professional body (Geological Society or ICE etc).
DEVELOPMENT
We recognise that all new technical employees, will require training in a number of key areas, including health and safety, commercial and technical matters, across both ground investigation and grouting operations, along with support to help you fulfill your role.
Through a blended learning approach, you will undertake a range of Technical and Engineering training as your knowledge and skills grow, delivered by a mix of internal seminars, practical workshops, external courses and e-learning.
We believe in continuing development and the Company is committed to providing the necessary support to enable employees to learn and grow, to ensure their knowledge is at the forefront of industry developments and to reach their full potential.
We adopt a 'learner-led' approach to learning and development, which empowers employees to match their interests to specialist areas, in line with business requirements.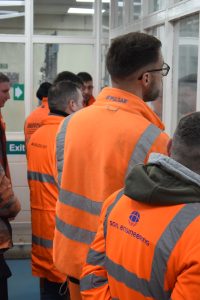 CHARTERSHIP 
The Company encourages every Operational team member to have the chance to achieve chartered status with the Geological Society.
To assist in this aim, the company provides information relating to chartership and supports those wishing to achieve chartered status.
CONTINUED PROFESSIONAL DEVELOPMENT (CPD)
As part of both the requirements for chartership as well as longer term development, we recognise there is a need to demonstrate an ongoing commitment to the profession, and encourage you to formally record all the training and learning events that you attend.
This formal record can either be completed via the Geological Society or Institution of Civil Engineers online CPD record systems or by keeping your own detailed record.
The company will help employees to achieve the requisite number of hours of CPD per year.
Soil Engineering is committed to equal opportunities in employment with the aim of ensuring that everyone who applies to work for us receives fair treatment. We positively encourage applications from suitably qualified and eligible candidates regardless of age, disability, ethnicity, sex, gender identity, sexual orientation, religion or belief and pregnancy/maternity.
Interested in a career with Soil Engineering?
Click here to view our latest vacancies