Department for Transport Minister visits our Leeds Headquarters
Soil Engineering, the market leading Ground Investigating and Grouting specialist, were very pleased to welcome Andrew Stephenson MP, Minister of State at the Department for Transport (DfT), to our Leeds office. The visit on Feb 23rd coincided with the opening of DfT's new Leeds offices.
The Minister was joined for the visit by Clive Maxwell (Director General, High Speed Rail) and Alan Over (Director of HS2 Phases 1 & 2a) from the Department for Transport. Coming to Soil Engineering to meet suppliers local to the DfT's new Leeds offices, our visitors held a meeting with senior managers before being taken on a tour of our headquarters site.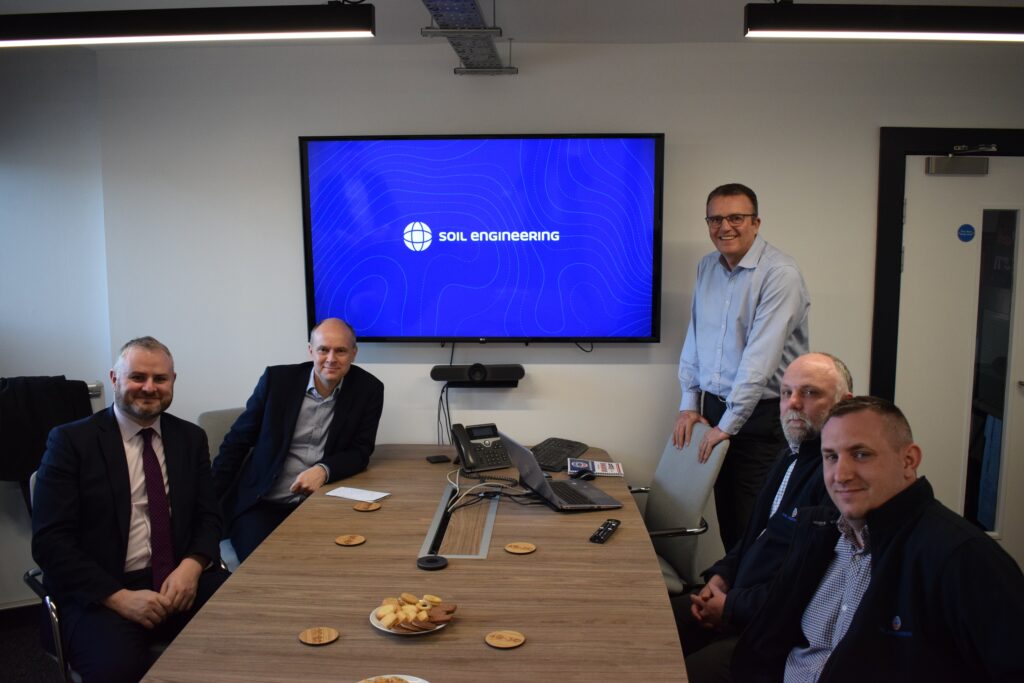 First visiting the plant department our guests were able to appreciate the scale of our continued investment in plant and equipment, with a recently acquired Fraste rig in the workshop for a quick drill-head change between deployments. Having just returned from works on HS2, the rig is being readied to head back out onto another DfT funded project. The part then took the opportunity to discuss skills and career development with a former Apprentice Jake Marshall, and current Land Drilling Apprentice Paul Moore. A highlight of the tour was Jake receiving his British Drilling Association "Lead Driller of the Year" award from the Minister. This reflects Jake's development as a driller, having completed much of his apprenticeship working on HS2 projects.
Having discussed drilling techniques and careers, and had the opportunity to examine core samples recently extracted form the C2 sector of HS2's Phase 1 works, the tour moved on to the laboratory. Discussing this key offsite aspect of design and project delivery, it provided an excellent opportunity to discuss risk management and the value of investing in ground investigation.  Our visitors were able to see some of "their" samples being tested in the rock laboratory, before moving on to our earthworks department to look at how we provide data for material re-use. This area of the laboratory is key to unlocking construction savings through cut-fill balance, and provided a great insight into how critical skilled workers are in producing high quality data for critical design elements.
Soil Engineering are delighted to have been given the opportunity to host this visit for senior Department for Transport figures, reflecting our long-term involvement in delivering HS2. We are also very pleased that the Minister was able to present Jake Marshall with his well-deserved award.